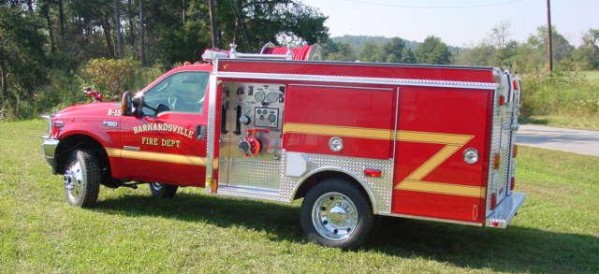 Barnardsville Fire Department
In 2003, The Barnardsville Fire Department was looking to replace a 1979 mini-pumper/brush truck. We looked at several different companies and kept coming back to the Anchor-Richey Product. They built us a "Q"uality mini-pumper/brush truck on a 2003 Ford F550 chassis with 300 gallon of water and 15 gallon Foam-Pro 1601 system with an independent E 200 Waterous pump. The staff and manufacturers were friendly and supportive. Matthew and the crew took great pride in their craftsmenship. The crew went out of there way to make sure we were pleased and satisfied with the unit. Anchor-Richey builds a "Q"uality Product.
In 1997, we had bought a pumper and wanted an extended front bumper with trash line on it. Due to the expense, we had to delete it from the truck. In 2010, we were able to finally add this bumper and line, back to this truck. We turned to the "Q"uality folks at Anchor-Richey and they said it could be done. When we went to pick up the apparatus, the bumper and trash line, exceeded our expectations. Matthew and the crew, again did a "Q"uality job with the remounting of the winch and adding the plumbing and valves for the line from the pump panel. If you need any work done on your vehicles, I would certainly recommend Anchor-Richey EVS.
Barnardsville Fire Department
Barnardsville, NC